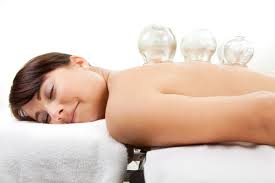 Cupping Massage Wins at Olympics
If you've been paying attention to the 2016 Summer Olympics at all, you may have seen Cupping making the headlines. Olympic athletes, such as swimmer Michael Phelps and gymnast Alex Naddour, have made the news because of the "strange purple dots" on their bodies. However, the strange purple dots aren't so strange after all, but simply an aftereffect of cupping.
Gliding cupping is a unique treatment to remove external and internal pathogens from the body and restore the circulation of blood. It provides for a wonderful deep tissue massage—not limited to the area of direct treatment—but also to the areas the relevant nerves are controlling. It also activates the lymph system, and assists in reduction of cellulite, and skin toning, as a few good examples.
Cupping is based on the TCM (Traditional Chinese Medicine) meridian system, and the general effects help facilitate a return to balance of organs, as well as improve the circulatory and nervous systems, and locally has a remarkable effect on stiff muscles with it's pull and gliding properties aiding in pain reduction, and removing toxic substances from the skin.
Supporters of cupping therapy believe the suction of the cups mobilizes blood flow to promote the healing of a broad range of medical ailments. It's no wonder these Olympians are such fans of it.
Main Street Massage is looking into bring this type of therapy massage into our wellness center.  Novi and Northville Michigan does not offer these type of massages, so here at Main Street Massage of Novi would like to hear from our clients and would like to know if you would be willing to try this type of massage.